Who are we ?
Share Your Celebration
Share Your Celebration is an initiative by the events platform VenueMonk.com created with a vision to fight hunger and enrich the lives of the less fortunate.
What we do?
Spread Joy
We, at Share Your Celebration, are investing a lot of time and energy to create an inviting community of venues, caterers and individuals to donate excess food available after a celebration to the less privileged people who really need it.
How we do it?
Building Bridges
VenueMonk works with 1000+ venues and caterers. We leverage these connections and request them to donate excess food after each celebration to the needy thus spreading joy in the lives of many.
Where is your food going ?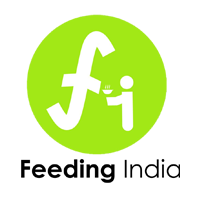 About Feeding India
Feeding India (FI) is a not-for-profit social enterprise which aims to connect two major social problems today: Hunger and Food waste as solutions for each other.It is a group of professionals, volunteering for this cause along with their main stream jobs. Starting with a team of 5 in August of last year, it is now a 1500+ volunteers group. In just one year, it has served close to 6,50,000+ meals. It is present in 20+ cities in India.It works on the belief that we do not need to create new food to feed the less privileged, but to simply direct the extra food which is already created.
You Donate
Fill the form at the top of this page to donate excess food. FI volunteer would get in touch to finalize the date, time and location.
Volunteer Collects
On the day of the celebration, FI volunteer would check & collect the food from your location and take it to the donation center.
Food Fed To The Needy
FI volunteer would distribute the food amongst the needy people.
Feeding India acknowledges the risks involved in redistribution of food.
- The leftover food will be consumed much within its shelf life. All food items will be checked by Feeding India volunteers for sensory parameters twice-


During collection from VenueMonk venue partners, vendor partners and customers
At the donation center before consumption

If a leftover food item is deemed unfit for human consumption, Feeding India volunteers will not collect that particular item for donation.
Person donating food might have to bear the cost for transportation, packaging and serving of food.
Feeding India agrees to hold VenueMonk i.e., PurplePatch Online Services Pvt. Ltd., its venue partners, vendor partners and customers entirely free from any liability or harm that may be caused to the recipients of the donated food.
Feeding India reserves the right to choose the recipients of the food donation, as per its monthly program.
VenueMonk i.e., PurplePatch Online Services Pvt. Ltd. Is just acting as the connecting medium between food donors and Feeding India.
VenueMonk i.e., PurplePatch Online Services Pvt. Ltd. expressly disclaims any and all liability and assumes no responsibility whatsoever for consequences resulting from any actions or inactions of Feeding India.
For any queries, kindly write to namaste@venuemonk.com.